Expert Advice

Worldwide Shipping

SECURE SHOPPING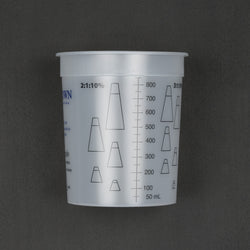 The cups are made from high quality materials making it possible to crack the set resin away once dry and remove, enabling multiple uses

They have 50ml graduations making it possible to mix both parts of your epoxy resin in the one container without using any other containers.

These cups are strong and flexible rather than thin and brittle

Completely smooth on the inside for easy stirring
The cups are made from high quality materials making it possible to crack the set resin away once dry and remove, enabling multiple uses

They have 50ml graduations making it possible to mix both parts of your epoxy resin in the one container without using any other containers.

These cups are strong and flexible rather than thin and brittle

Completely smooth on the inside for easy stirring
Please contact us at info@arttreecreations.com.au if you wish to return a product. It is up to the purchaser to return the product at their cost unless it is faulty or damaged. Once the product is received we will issue a refund less shipping and 15% restocking fee.
100%
of reviewers would recommend this product to a friend
Mixing cup
Easy to read numbers to the ratio exact
I recommend this product
Excellent size
Great for a larger project needing a large pour or lots of smaller ones.
Excellent size
Great size for small and medium pours. Very easy to clean for reuse.